Every speculator has a "go-to" or automatic trade to fall back on, and one of my favorites triggered a buy signal today.
The buy signal is to purchase QLD, the ultra-QQQ 2x ETF, when its RSI (5) reading falls below 30. As it was under that for most of the day, I picked up 250 shares of QLD at $65.16 right before the close.
The sell signal on this trade is to get out when RSI(5) exceeds 50 again.
Last year (2009) this trade produced 8 winners out of ten, and cleared a profit of 41.9% after commissions, handily beating the markets.
So far this year, however, the only signal produced has been a losing one: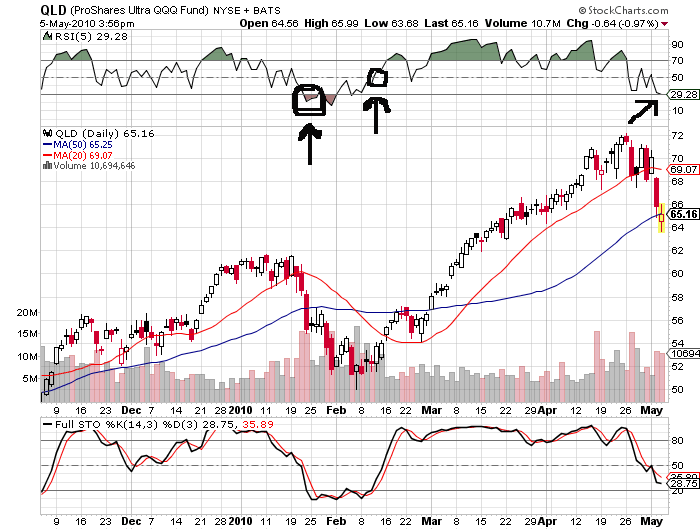 The entry point was on January 22 and the exit was on February 11th, with a net loss of about 2.5%.
The main benefit to this trade is its usual consistency; the main drawback is that stops are not incorporated in the exit, allowing for occasional beat-downs of epic proportions. I am studying this problem this year, and hope to find some sort of workable compromise. In the meantime, it looks like I am a dip-buyer on a day when the 50-day SMA failed to hold!