Sell in May and go away? The day a fat finger erroneously sold billions? No matter how you look at it, this was a day to remember (or maybe to forget)!
For those of you who believe gaps are always filled, the two on the S&P I have been watching (1125 and 1080) were filled within minutes after the fat finger fell shortly after 2:30 EDT: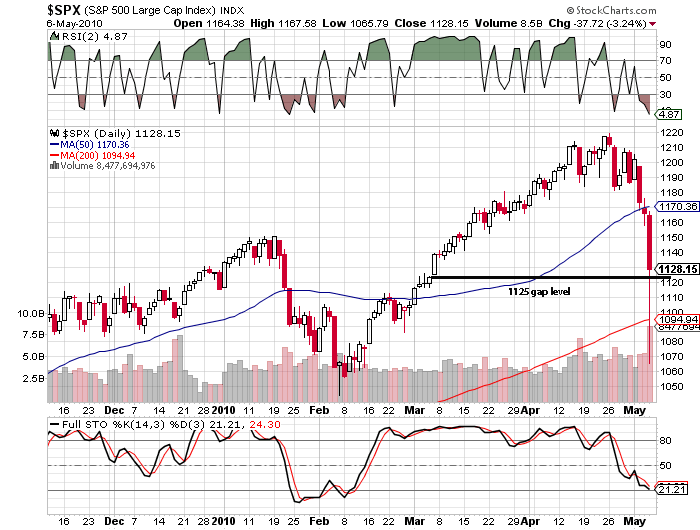 Its eerie how the close ended up right at the 1125 level of the March 5th upside gap!
Of course, my own "go-to" trade in the QLD was brutalized: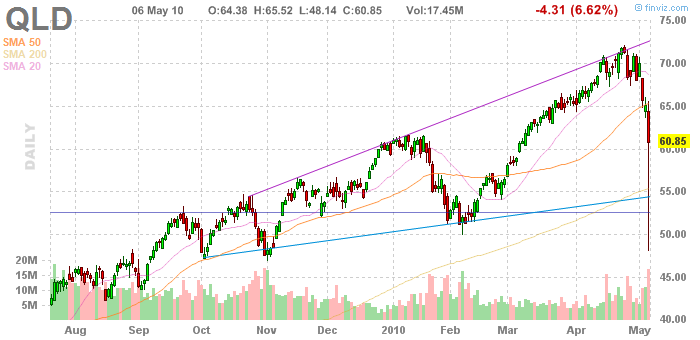 How I wish it triggered at the close today instead of yesterday! At one point it appears to have been down over $3000 — plenty of destruction for an account that started at $10,000.
That just emphasizes to me the weak point about the QLD trade I mentioned before — the lack of any well defined stop for it, not that a stop order would have been honored in today's hectic session anyway.
On the other hand, while it didn't help me personally, days like today certainly vindicate my idea of not having open positions while travelling or on vacation!
Tomorrow should be interesting. Jobs report, anyone?