Signs are brewing that the market rally, seemingly unstoppable, may actually be in its tired stage.
One of my favorite charts is Thompson's insider buy/sales ratio: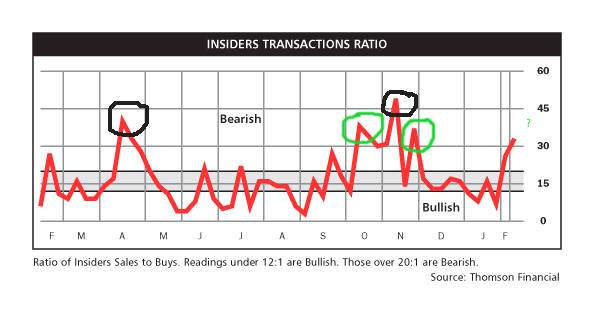 The idea is when insiders aren't buying anymore (and the red line shoots up) its getting to be a good sign to sell (or short, or panic, or whatever you like to do when the market falls).
Notice that it can throw off some false signals, though. The April and early November peaks circled in black, were good sell points, but the October and Thanksgiving jumps were not. Now that this index is ip above 30 again, will it serve as an oracle to the beginning of the end — or at least a decent dip?
Another clue comes from market sentiment surveys. The Consensus bullish sentiment from Consensus, Inc. is pegged at a whopping 71% this week, as opposed to a "mere" 65% 2 weeks ago. That's up in the stratosphere, and augers for a turn in fortunes. But the bulls in the AAII "dumb money" survey, have backed off  a bit to 49.4% from a previous 51.5% level.
So what does all this auger? On the whole, I'm betting a catalyst appears soon that takes the S & P 500 down at least 5%.