I been kind of listless since moving to cash yesterday, and the upcoming Memorial Day weekend probably hasn't helped. So I decided to re-visit the company that has produced my biggest trade since starting this site, Grand Canyon Education (LOPE).
Do you ever find yourself drawn back to past winners? Actually, sometimes you can make a good deal of money by becoming sort of a specialist in the trading of select stocks, and it helps if they are perhaps a little off-beat. So lets take a current look at LOPE: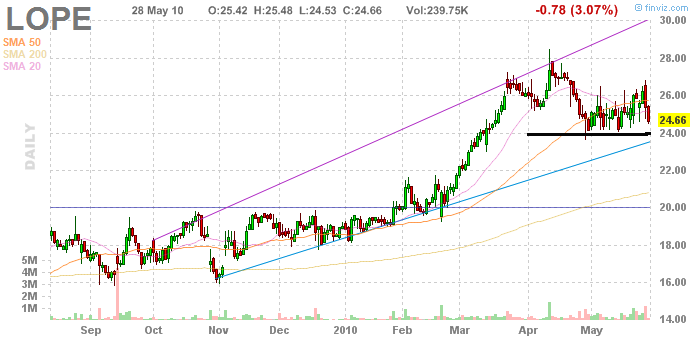 I might consider trading the black line, going long for as close to $24 as you dare, with a tight stop under that solid support at $23.75 or so. If there is a mini-bounce coming, LOPE might even get up to $28 or so, providing a very good risk-to-reward ratio.
I'm not getting in now, as I prefer to wait out the long weekend without LOPE on my mind. And don't forget, we are still in the short-term downtrend channel, so be careful trading on the long side!