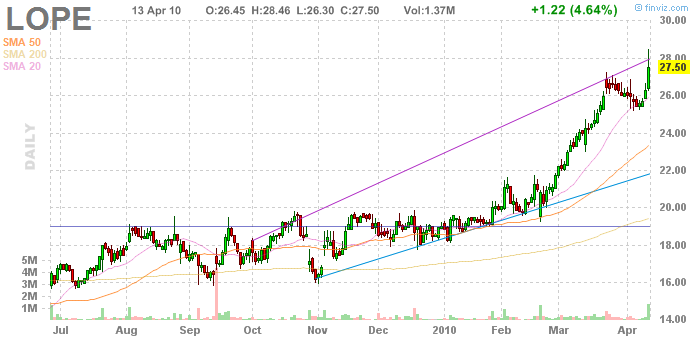 There's not a whole lot to say about my move in and out of Grand Canyon Education, which was held over the weekend and produced more or less an instant profit on no discernable news without the usual mental anguish. Everyone wishes they could find trades like this all the time. The pity is, it just doesn't work that way!
Entry was due to the bull-flag formation, but what about the decision to exit? I sold at $27.94, just about right at the purple trendline on the chart. Usually, I might be inclined to hang around to see if I can jump on trend, using trailing stops to protect gains.
However, I'm getting too bearish / scared to stick on the long side right now. As I write this the 2 day RSI on the S&P 500 is back over 92, and while that hasn't mattered a bit since February 5th, eventually it will, so unless the overbought condition can be substantially worked off, looks like I'll be looking for short plays for the next little while.