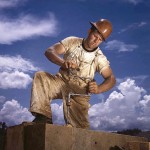 A whopping number of new jobs resulted in an instant loss for my options strategy last week, as the S&P rose to the 1345 range on the jobs number Friday.
That erased the money I had booked by selling weekly options spreads in the 131 SPYs. All told I had a $330 loss on the weeklies I sold last Friday.
That was buffered somewhat by my selling my April 131 SPY calls at at profit, and replacing them with the cheaper April 134 SPY calls.
And I turned around and put the same strategy on for next week too, selling three weekly 134 SPY spreads for a total credit of $2.23 each. No jobs report next Friday, yay!