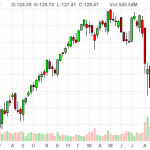 In the first week of 2012, my new options hedging strategy has produced a raw (not adjusted for commissions) profit of $468, with only 10 minutes spent at the keyboard.
The S&P 500 was at 1280 last Friday when I sold three 128 weekly option spreads for $2.28 net each. This Friday the index had only risen to 1284, causing the weeklies to decay to $0.72 each — leading to a good profit.
And there wasn't much erosion in the April spread I bought to hedge.
So, all in all, a successful start. We will see how this holds up in more tumultuous markets that we all know are coming sooner or later.
I put the same trade on again for next week, selling three 128 spreads on the January contract for a credit of $2.29 each. Volatility is low!