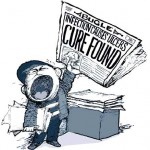 With the markets hinging on every development in Washington lately, as the debt ceiling debate lingers on, "trading the news" is itself more frequently in the news.
But with markets as big as they are, as fast as they are, and dominated by peripatetic machine algorithms, there may be little time any more for actually reading the news.
Instead we are going to start mining it — and we already have (just take a look at this service, for one example).
The idea is to get an AI program that can digest news and financial releases, and begin trading on their content in nanoseconds. Makes Evelyn Wood speed reading courses seem decidely old hat!
If you think you are going to daytrade the markets based on particular news information, all the while competing against these programs, I think you are seriously deluding yourself.
Instead, why not try to develop a more rational, low-key, low-frequency trading approach? That's what I'm doing, and reducing trading expenses, while at the same time reducing trading angst, and (hopefully) keeping trading profits high.
Let the news reading algorithms play against themselves!