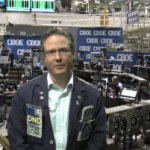 With the debt ceiling deadline looking like it will linger in the news right up to August 2nd, VIX has popped up to 19.25 and trading in the volatility index is drawing increased interest.
The highest open interest in August VIX calls is in the 25 strike (186K contracts), closely followed by the 30 strike (157K contracts). I sold the August 25 calls last week for premium and got $0.80 for them; today they are still hanging in there in the $0.65 range. The 30's closed at $0.40 today. So you gotta pay a pretty good price if you want to speculate on (or hedge against) impending debt default disaster.
On the other hand, some puts are cheap. August 16's can be had for $0.20 at this writing. Remember, VIX closed Friday 7/22 in the mid 17's. If everything settles down, these could pay off handsomely to someone who likes such speculations.