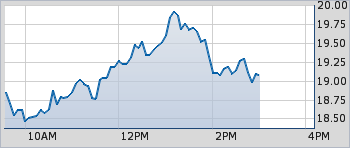 I sold off half — the long half — of my VIX options position a little after noon today (and then watched VIX run briefly to 20, of course). While this will go down a loss for now in the trading log, I'm expecting VIX to moderate, and the expiration of the short side of this trade should produce a small profit.
This position was purchased way back on April 15th! — guess I'm not much of a short-term trader anymore, eh?
To try to goose the profits a bit, I also sold 10 VIX June 21 call contracts today — with expiration set for Wednesday, so I am really betting on the VIX to settle down by Wednesday morning!