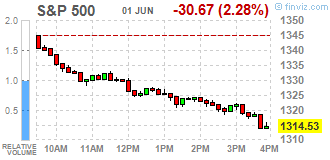 If you were looking for the typical first day of the new month bump up in the markets, you sure didn't find it today! Summer trading started off with a winter-like wipe-out that extended straight from bell to bell.
Today is a good example of why confirmation is important, as yesterday's close above the important 1340 level turned out to be a big fake-out.
The head-scratching is likely to continue — Friday morning brings the jobs report. Could be a long summer this year!