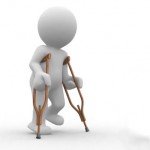 Well I've been battling a sore foot for most of the past month, which has kept me from posting here, which might be just as well as I'll be quick to admit to being baffled by the present market situation.
While I've been tending to my foot, my VIX option positions haven't been doing nothing, of course; they've been decaying. With May expiration (for VIX) on Wednesday, it's time to bail!
So here goes; I sold my May 17 VIX calls for a measly $0.85, and my May 16 VIX calls for a somewhat better $1.55 this afternoon. I plan on (hopefully) letting the May 20 VIX calls I sold expire by Wednesday morning.
For the record, the VIX itself was trading around 17.57 this afternoon.
Lets hope things are looking up from here!