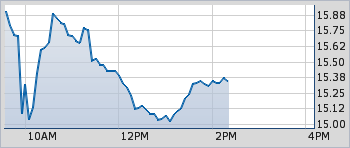 When the VIX is down to 15, I like to buy — in many cases, almost impossible to resist. So I put a little more than $2000 down on an increase in volatility sometime before June. It would take a lot for the present market torpor to last that long.
Specifically, I bought 7 VIX June 15 calls for $6.30, then sold 7 June 20's for a credit of $3.00 each.
This gives me three open VIX positions: naked April 20's sold that are expiring next week, plus May 17 calls and now a June call spread. In short, VIX hovering under 20 next week, then spiking, would be just fine with me!