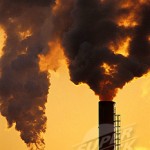 Looking for a new trading system? An indicator seldom followed that outperforms the market consistently?
Try trading the air pollution index.
At least that's the theory of two academics who looked at returns from a number of markets over a ten year span: The stock market hates dirty air.
The authors of the study from the Journal of Economic Psychology found that stock returns were generally lower on days with poor air quality ratings in the vicinity of the stock exchange. The effect is significant: Trading stocks based on day-to-day air quality ratings might have allowed you to beat the annual return on the S&P 500 by several percentage points.
Looks like its time to short those belching smokestacks!