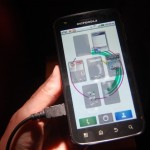 Just last month I made a nice score betting against AT&T on their earnings announcement. The thinking was that expectations had to be lowered with the exclusivity of their iPhone contracts in its waning days. The trade played out nicely, as T gapped lower, a gap which still hasn't filled: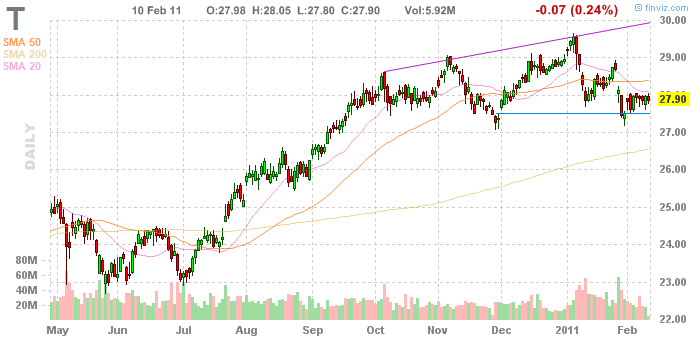 Swing traders alert! It might be time to tack sharply and think about putting on a bullish position in Telephone. I noticed the Boston Globe gave a rave review this morning to Motorola Mobility Inc.'s new Atrix 4G smartphone (pictured above), due out by March 6th, and maybe sooner.
Globe techie Hiawatha Bray raves about this new annoyance device, which will set you back $199.99 ($499 if you also want a sexy docking station that turns it into a laptop)– if you sign up for a 2 year contract. And who holds exclusivity on these contracts, you ask? Well, none other than AT&T.
So Telephone may again have latched on to something hot — if I was going to actually do this trade, which I'm not, I would be thinking about perhaps buying June calls, to give the new phone some time to gain street cred. If you're trading Telephone, Good Luck!