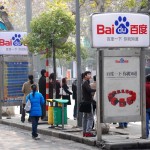 Following up on yesterday's post, I just put on a modest $725 put spread on Baidu, which announces Q4 earnings after the bell today.
I am envisioning this as a quicky up or down trade on the Chinese internet search company.
I elected to go with the $105-$100 spread, which was executed as follows:
Purchased 5 BIDU Feb $105 puts for $3.55 each.
Sold 5 BIDU Feb $100 puts for $1.90 each.
The underlying stock was trading at about $108.36 at the time I pulled the trigger.