I have been on a bit of a roll here trading options in January (go ahead and say it– I've been lucky), and late last week I had a horrible, wonderful, awful idea — I was going to short the VIX by buying puts on it.
I certainly didn't go to bed Thursday thinking about Egypt, and I doubt very many other traders did either. I just felt that in order to get and keep my account above a 100% profit level by my one-year anniversary on March 19th, it might be a profitable play.
But real life — in the form of my full time job as a bankruptcy attorney interfered, and I wasn't able to put a trade on. Then, voila! we woke up Friday to Egypt news, and it made for a missed opportunity. Look how much the VIX spiked Friday: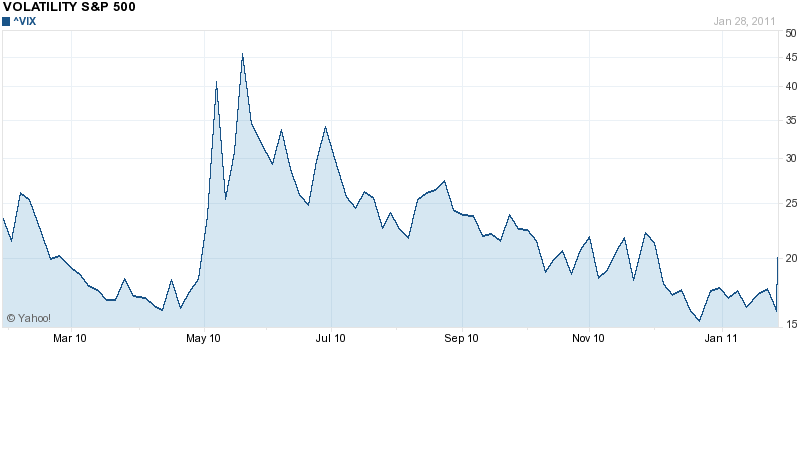 Catching that obviously would have been a nice addition to the till, but with over $3200 in booked profits already this month, I won't complaint too much.
Instead its on to the next opportunity — a chance to play the BIDU earnings announcement on Monday. I'm planning on a bearish move: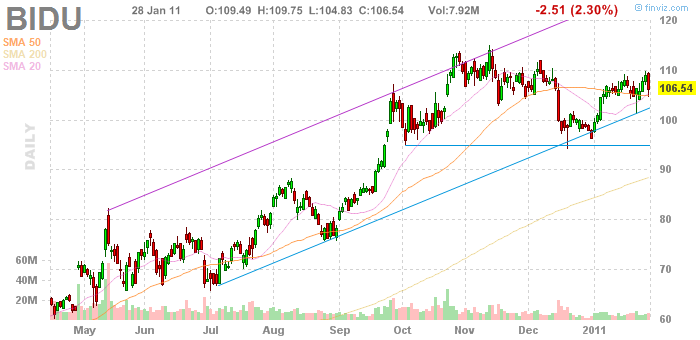 and given my recent luck, will probably be using options to again to either capture a down move or limnit losses. Stay tuned on Monday!