Fresh from last week's options score with AAPL, I decided to put a little bet in the AT&T earnings announcement, before the bell tomorrow morning.
With the endless drift-up of the market as a whole, it might be a little crazy, but this is a bearish bet, the T February 28-27 put spread. T closed at $28.73 today, after the Fed-meeting madness was over. I am paying $130 for each spread, and I'm in for 5 contracts each way, so I'm risking $630 of last weeks gains if Telephone keeps heading North.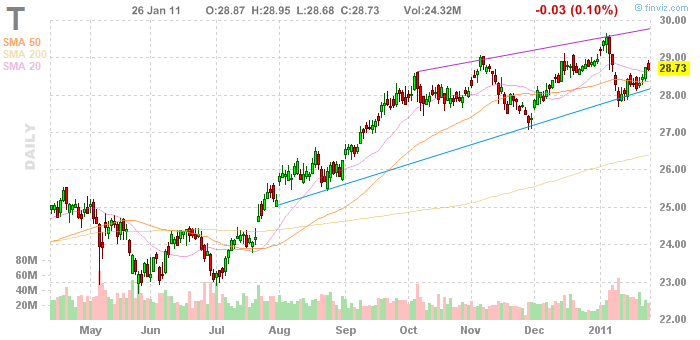 BOttom line is I don't think AT&T is going to be a big winner in a world where I-Phone users have freedom of choice, and this trade is a bet that many will be disappointed in tomorrow's guidance.
But beware the ever persistent drift-up!