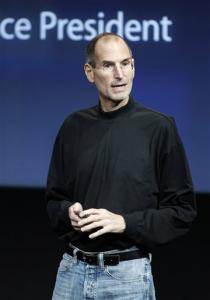 Well, my foray into options trading took an unexpected turn when Steve Jobs announced he was taking another medical leave and AAPL shares plunged at the open this morning:


I took my Feb 350-330 put spread off the table a little after 10 Eastern, when Apple was trading around $333.30. The end result was an over-the-long-weekend profit of $1,366.
I have to admit like a lousy way to make money. Obviously I was bearish on Apple's earnings report set for this evening, but now it turns out that I have effectively made a quick buck of Mr. Jobs health misfortunes. While rumors concerning Jobs' health seem to fly through the Ethernet every day of the year, it doesn't give me any real pleasure in profiting or even commenting on them.
On the other hand, with the stock trading just above the lower strike price on the spread, there was little point in hanging around for the actual business news tonight, and caching out was the right strategic thing to do. (Also, due to a New England snowstorm, I was unexpectedly at my desk for the open this morning. I had planned a long car trip to another part of Massachusetts for this morning).
I wish Mr. Jobs all the health in the world; he is certainly one of the characters on the American business scene we would like to have around and active for a long time to come.