I decided to come out of my winter hibernation Friday, and put on my first trade of 2011.
To say we are going against the flow on this one is an understatement; I decided to short AAPL right before their Tuesday evening earnings announcement. Anyone with anything negative to say about America's most beloved consumer sexy stuff provider is rare as hen's teeth, and probably un-American to boot, so leave it to Cape Cod Doug! Here's the chart, which looks like an unrelenting ascent to the heights of corporate Nirvana: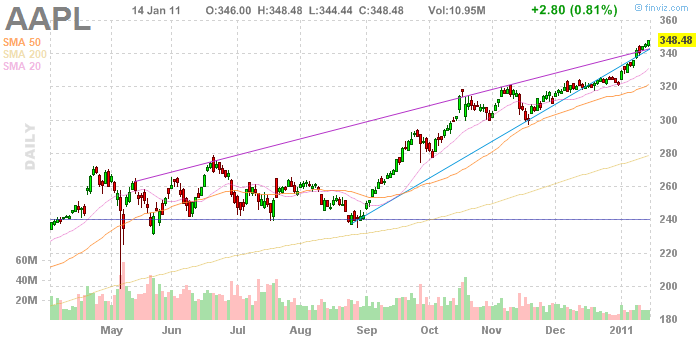 Just to mix things up a little more (and to protect my sorry ass when I'm proven wrong) I decided to use options to limit the carnage. This is the first options trade I have made since starting this site.
Specifically, I am going one month out to February expiration, and purchased the FEB 350-330 put spread, 2 contracts each for a total maximum bust-out of $940. My hope is that if Apple does pop down on earnings, to get out quickly, and if there is a down-gap, maybe even turn around and pull a bullish gap-fill trade on the rebound.
But for now, just keeping fingers crossed 'til Tuesday night.