While the focus of this site has been to try to earn a 100% yearly return through short (and as it turns out, medium) term trading, let us not neglect the long term investor.
If your time frame is anywhere from 5 to 10 years to longer, let me recommend the battered Citigroup, and suggest a good long-term bet would be to see if it can crawl back to its old highs: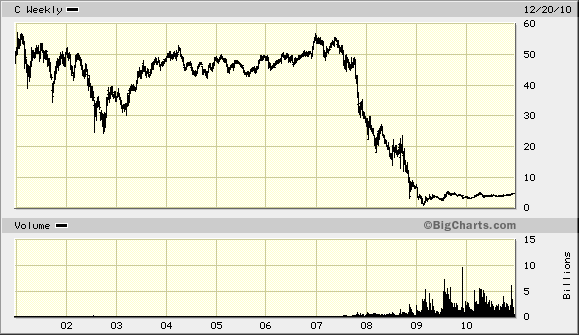 This is nothing less than a flat bet on a great American recovery, something most Main Streeters certainly aren't feeling at the moment. But such a recovery is likely to happen amid the proverbial wall of worry.
Timing remains an issue, as C has run up sharply all fall, and especially in December. I would wait for that 78 stochastic reading to dip down again, like it did around Thanksgiving, and start accumulating then.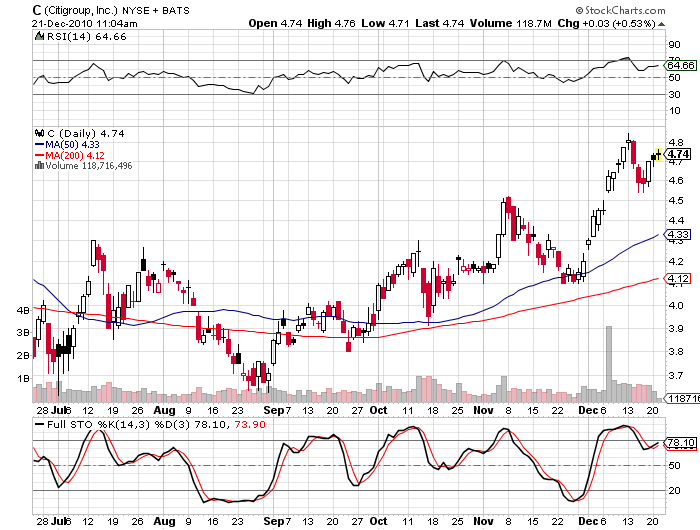 And if it doesn't work out that way, we know there is a good floor in this stock, as it doesn't seem that Uncle Sam wants to let it fail.
Ten times your money in five years or less? A real possibility, says your old friend CCD. Have a great Christmas!