I unloaded my position in CPWM for $7.70  this Monday morning for a tidy profit of $2, 350.00.
It only took 170 days (since June 4th) to close this trade! That's about 2/3 of the existence of this web site, and by far the longest term hold I have had while trading here. Yes, I was stuck for a long time, but on this trade patience and perseverance eventually won out.
Cost Plus soared to multi-year highs on a 3rd quarter earnings beat Friday: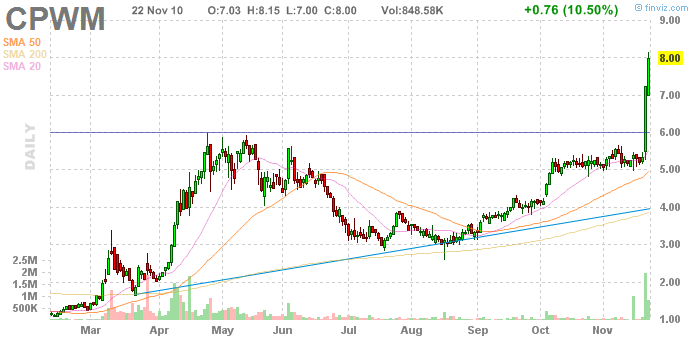 I have now crossed the halfway point as well as the two thirds point in my quest to double the trading account in a year. Total profits after starting with $10,000 are now just about $7,300, so things are looking up again.
There remains the matter of getting Brazil to tank, so I can make something on my large BZQ position, but I am confident those upside gaps will eventually fill!