Another woulda-coulda-shoulda story, if only I had followed my own March 12th advice and kept an eye on BZQ, some nice profits were to be had buying a breakout over $25. As for the current situation: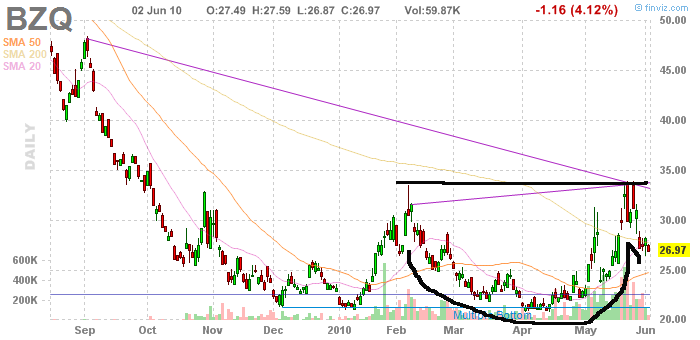 There are two ways I look at this chart, leading, of course, to opposite conclusions. The double top speaks of an upcoming slide, which may in fact be in progress now. On the other hand, maybe there is a potential (bullish) cup with handle setting up here.
So two ways to play BZQ: buy now, with a stop at the 200 day moving average ($25), and a goal of hitting $34 again; or wait for the cup with handle to complete, and buy new highs over $34. That would be a longer term trade; maybe you can get it to go all the way back near $50,like last September.