Here is how I am presently drawing the down trend channel: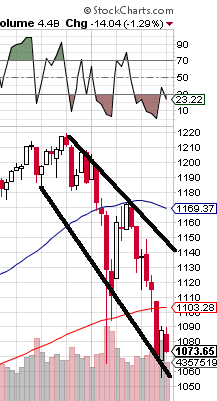 Although we are right at the bottom of it, it looks like a down-side gapper to start Tuesday morning will stretch the lower line.
There's a good chance that we will see a ripper sooon going all the way up to fill the gap at 1115, but don't let that alone trick you in to thinking the market is well.
Caution is the word for bulls until the top line is taken out on a close.