After you close a trade, do you ever catch yourself compulsively checking the stock price to see if you "made the right move?"
Or do you always do this?
Sometimes I just can't resist, although its asking for mental torture. I dumped my Potash position last week because I didn't want it open while I was travelling. Today I returned, and true to form, just couldn't resist taking a little peek: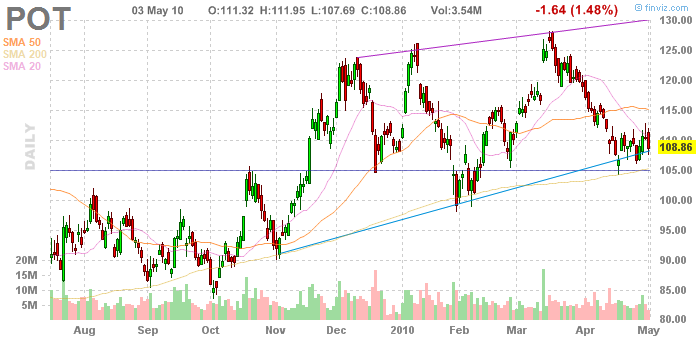 Peeking in the morning made me mad, because POT obviously had returned to the plus side of the ledger in the meantime while I was away. But by the close, most of those gains had been given back, and there is less than $200 difference from where I sold.
I suppose a case can be made for purposeful peeking; first, to learn to steel yourself to the markets, and not let every "trade that got away" get to you. The second reason would be to keep following interesting companies, and looking for more opportunities, entry points, chances to swing trade and go short, etc.
Still and all, peeking is a good way to drive yourself crazy!