While waiting for my listless Potash trade to play out, I've been rather half-heartedly prowling around for some different set ups, and stumbled on Ryan Mallory's list of sixteen short setups ripe for agonizing us dispirited bears . . . . Just kidding!
Here's one from Ryan's list, called Minefinders, which has apparently found a gold and silver mine in Mexico: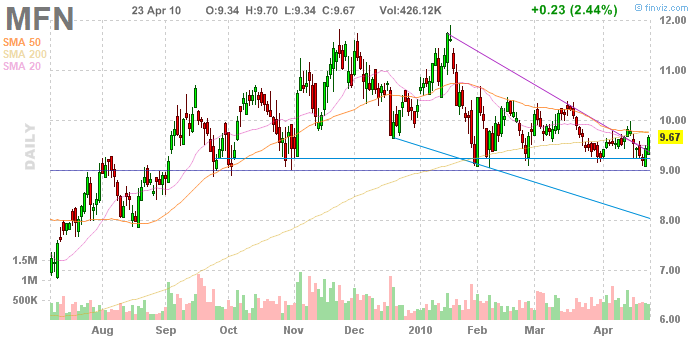 I guess this one would be short-worthy based on a sloppy head-and-shoulders pattern, but based on its price action for the last two sessions (and indeed, for the entire calendar year so far), it stands ready to punish those who enter early.
I think its better to wait for a definitive break of the apparent neckline right at $9.00 even, then get ready to bail with a tight stop if it rallies much above that point. Good Luck to those who dare!