A large scale project at my job has kept me away from the trading wars for an entire week, during which time the market has done little but ascend to recovery highs: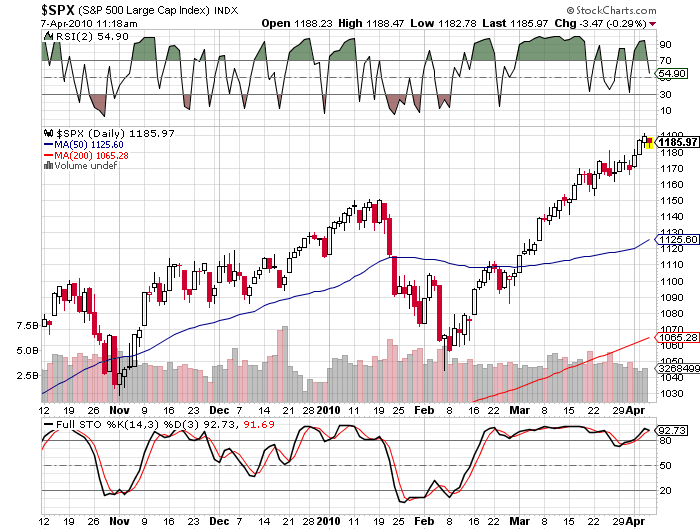 Traders who somehow pegged February 5th as a major turning point are looking pretty good, while the sidelined, like myself (for whatever reason) are wistfully on the outside looking in.
To help myself get back in the game, I find it helpful to go back and review what I was working on before. First up is that short-oil trade in SCO that put some money in the bank at the end of March: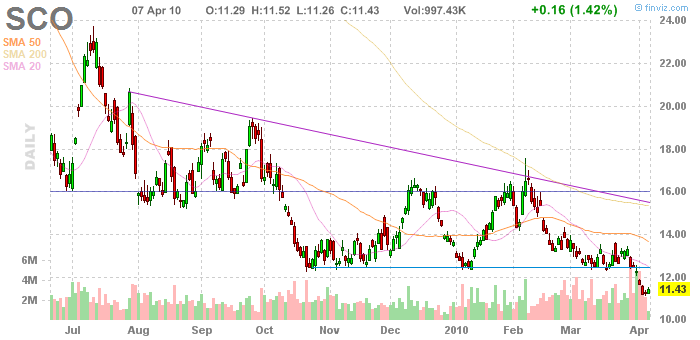 I briefly thought about getting back into this one last week, but was just to busy to do it right. I'm glad I didn't, as oil had a significant break-out, showing up on this chart as the violation of support for the double-short SCO. So I'll probably be out of this trade for a while, and may even play against it on the long side if the line (representing about $82/bbl oil) gets tested.
The coffee-roaster trade in GMCR that I had pegged as a long setup looks like it has paid off, although not without getting a whisker away from being stopped out on March 31st: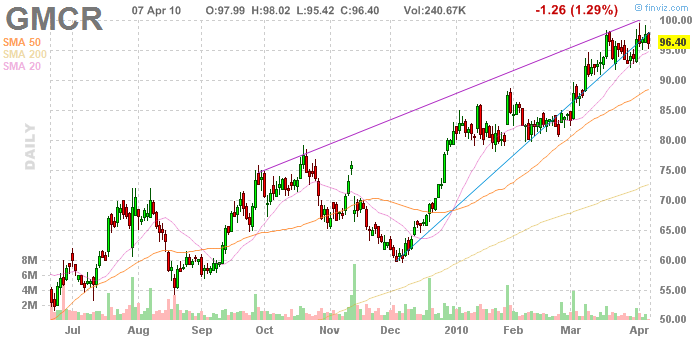 If I was still in this one, I'd see if I could get $100, even despite today's downturn, with a stop at the entry point ($95.50) for a free roll at a profit.
My continuing obsession with the plastic shoe business leads me back to CROX, which has paid off nicely after all for those who traded the cup-with-handle breakout of March 25th: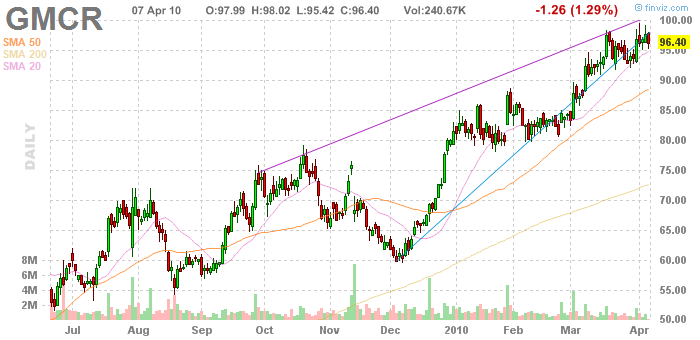 A return to the $8 level would give the plastic shoe optimists another chance to get in on a dip.
The cruise lines have been nothing but profit for the bulls lately: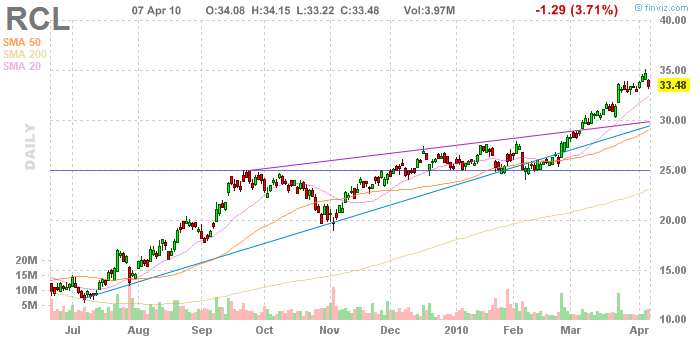 Notice how Royal Carribean (RCL) has not only run up with the market, but for the most part avoided the unpleasantness of the late January correction. This is the definition of a technically strong stock, and might make a good play on days where its RSI-2 falls below 10.
Finally, Walgreens (WAG), touted as a potential short on St. Patrick's day didn't pan out, as it broke above its trend channel just a few days later: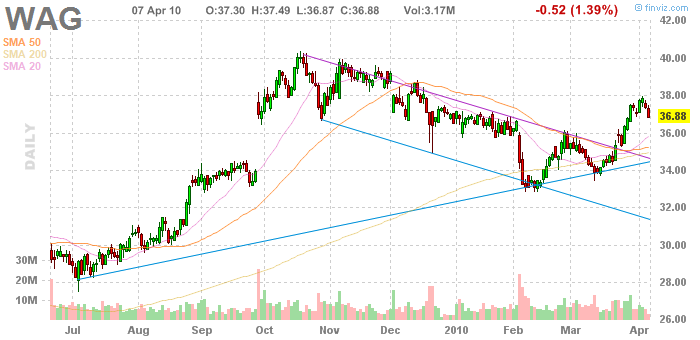 I wouldn't short this one now unless and until it gets down under that SMA 50 line.
Not much in the way of currently actionable trades in this group, and I'll be away next Monday as well. If I see anything good, I'll post it here, but may be reluctant to pull the trigger knowing I will be out of town of Monday.