Traders who want to place bets on the future of housing in America sure have their work cut out for them. In the wake of the news that housing starts have reached fifty year lows, some contrarians might be poised to jump in to this battered sector, but they may find themselves buffeted by a wild ride.
Take, for example, KB Homes (KBH), which announced earnings this morning. This announcement was reported both as "KB Homes posts wider than expected quarterly loss" (by Reuters), and simultaneously as "KB Homes posts narrower quarterly loss" (by the Wall Street Journal). For the record, the loss was $0.71 per share for the quarter ending in February.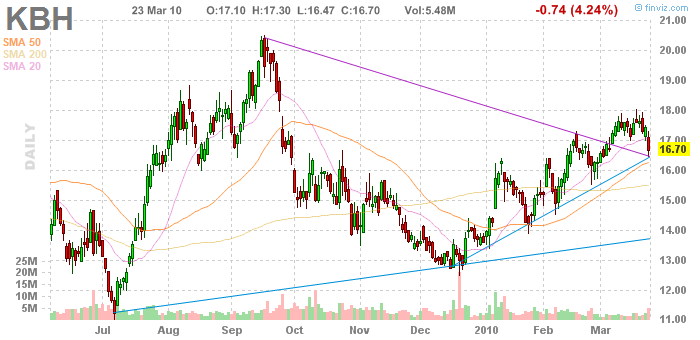 The chart finds KBH grinding upward since December, albeit with a 4% negative reaction to the earnings report today. Before that, it was sitting atop all the important moving averages, but not last summer's peak over $20. Anyone who can find an edge here, God Bless 'em. I suppose you could buy in here, and see if it can hold the December-March trendline, while looking at a return to last week's highs at $18 on the upside. No housing guru here, I'll pass for now.