If I'm going to do any swing trading starting next week, it would help to have some potential trading candidates lined up. I'll start by looking at Dendreon Corp., a hot little biotech that's been hitting new highs recently: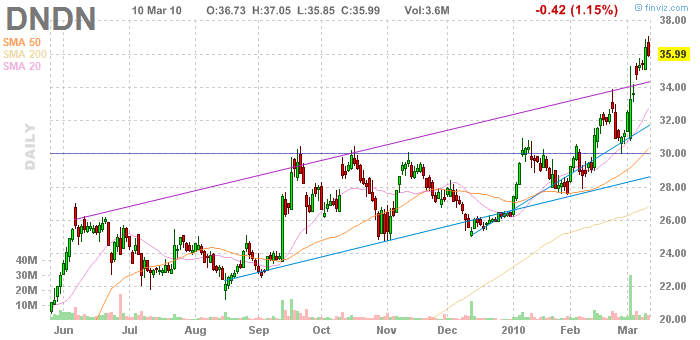 This chart should please momentum lovers, but I am not one to chase after last week's winner. Not reflected on this chart, recent two day RSI has been overbought in the high 90's. If we see a pullback next week, it could be a good play for buy-the-dippers.
An aggressive (long) trade would be to buy a pull back to the 20 day moving average or the middle of the trend channel, that is around 32, with a relatively tight stop at 30.
A more conservative approach would wait (and perhaps wait and wait) for a test of the 50 day moving average currently near 30.
With a strong technical pattern and god news recently, DNDN is not an acceptable candidate for short trades.